The Crest is a new harness weighing only 1.98 kg (size M).
It is a reversible harness with a completely detachable rucksack.
The Crest S and M come complete with a 55-liter rucksack, while the Crest L and XL with a 70-liter rucksack.
Estas son algunas de sus características:
 New color combination.
 No seat board.
 4 tamaños disponibles
 Self-inflating Airbag protection.
 Standard two-step light speed bar with foot elastic.
 Leg strap loops in the main carabiners
 Built-in Recco safety system
 Completely detachable reversible rucksack included.
Características del arnés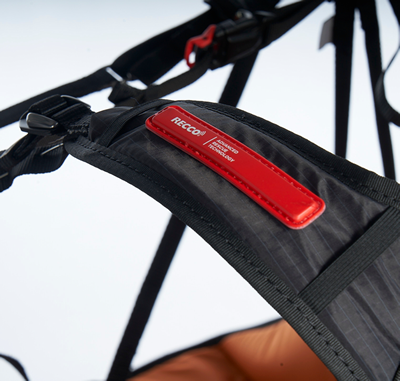 El detector RECCO emite una señal de radar direccional, como lo es p. ej. un haz de luz de una linterna.
Cuando la señal de radar alcanza el reflector RECCO, esta es reflejada y vuelve al detector, indicando al rescatador la dirección del piloto..
Cuanto más se aproxima el detector al reflector, tanto mayor es la intensidad de la señal devuelta, lo que permite al rescatador localizar la posición del piloto.
A new rucksack that will take you anywhere!
This rucksack is designed for maximum compactness without 

di renderlo il più compatto possibile
losing precious room or comfort!
Características de la mochila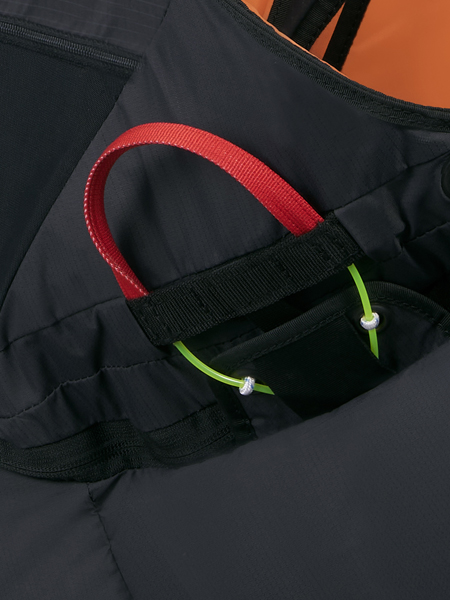 CUTTING-EDGE SAFETY SYSTEMS
The emergency parachute container under the seat is designed for a maximum 5 lt volume
suitablefor most emergency chutes.
The Crest comes complete with its rescue handle attached to its deployment bag
ESPECIFICACIONES

Crest

S

M

L

XL

Homologación

EN-LFT

EN-LFT

EN-LFT

EN-LFT

Tipo de protección

Airbag

Airbag

Airbag

Airbag

Sistema de cintas ventral

Get-Up

Get-Up

Get-Up

Get-Up

Número de certificación

PH_347.2021

PH_347.2021

PH_347.2021

PH_347.2021

Pico máximo de impacto

gr 19,23

gr 19,23

gr 19,23

gr 19,23

Acelerador

gr 47

gr 47

gr 47

gr 47

Mochila

lt 55

lt 55

lt 70

lt 70

Peso de la mochila

gr 460

gr 460

gr 495

gr 495

Altura del piloto

m < 1,68

m 1,65 - 1,78

m 1,75 - 1,88

m 1,85

Peso del arnà©s

kg 1,4

kg 1,47

kg 1,55

kg 1,60

Peso total

kg 1,90

kg 1,98

kg 2,09

kg 2,14

Altura de cuelgue

cm 45

cm 47,5

cm 50

cm 52

Distancia entre mosquetones (bandas)

cm 36-44

cm 36-44

cm 36-46

cm 36-46

Contenedor emergencia

lt 5,2

lt 5,2

lt 5,2

lt 5,2

*Peso total incluyendo asa de emergencia, proteccià³n, mosquetones.
1) How does the harness-rucksack connection work?
The rucksack is attached to the Crest with 4 buckles in the harness rear pocket. You can either keep it attached like in a classic reversible harness or use it as a separate item
1) ¿Cómo abrocho las perneras?
The leg straps have a green loop on the right side and a red loop on the left side. Once you've put on your Crest, you can easily clip each loop into the main carabiner of the same color. Make sure the words LEFT and RIGHT face in after you hang them.
2) ¿Para qué se utiliza el cordón elástico del acelerador?
The speed bar is very light and the wind would push it back during flight. The foot elastic enables you to have the speed bar always at reach.