It is the ideal harness for Hike & Fly for those who want compact volumes without sacrificing comfort in flight.
L'optional più importante del TransAlp 2 è la sua protezione gonfiabile, che è stata progettata in modo da garantire molta sicurezza ma mantenendo gli ingombri nello zaino minimi.
Here are some of its features:
Anthracite-orange color
No seat board
4 sizes available.
New inflatable protector (optional)
Standard two-step light speed bar with foot elastic
Leg strap loops in the main carabiners
Built-in Recco safety system
Integrated stowage container on the back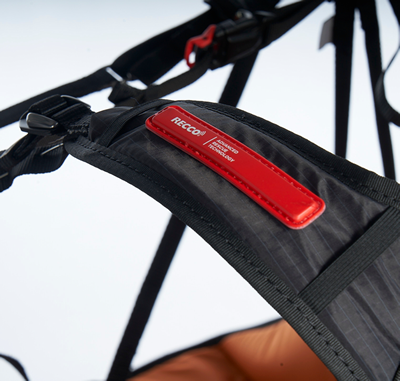 1. The RECCO detector emits a directional radar signal, like the beam of a flashligh
2. When the radar signal hits the RECCO reflector, it is echoed back to the detector and points the rescuer in the direction of the pilot.
The closer the detector gets to the reflector, the stronger the returned-signal, ultimately allowing the rescuer to pinpoint the pilot's location.
We have developed this new protector thanks to the experience gained with the inflatable protector of the GTO light 2
This protector has been designed in such a way that it "wraps" the harness guaranteeing you a lot of safety but keeping the dimensions in the backpack minimal.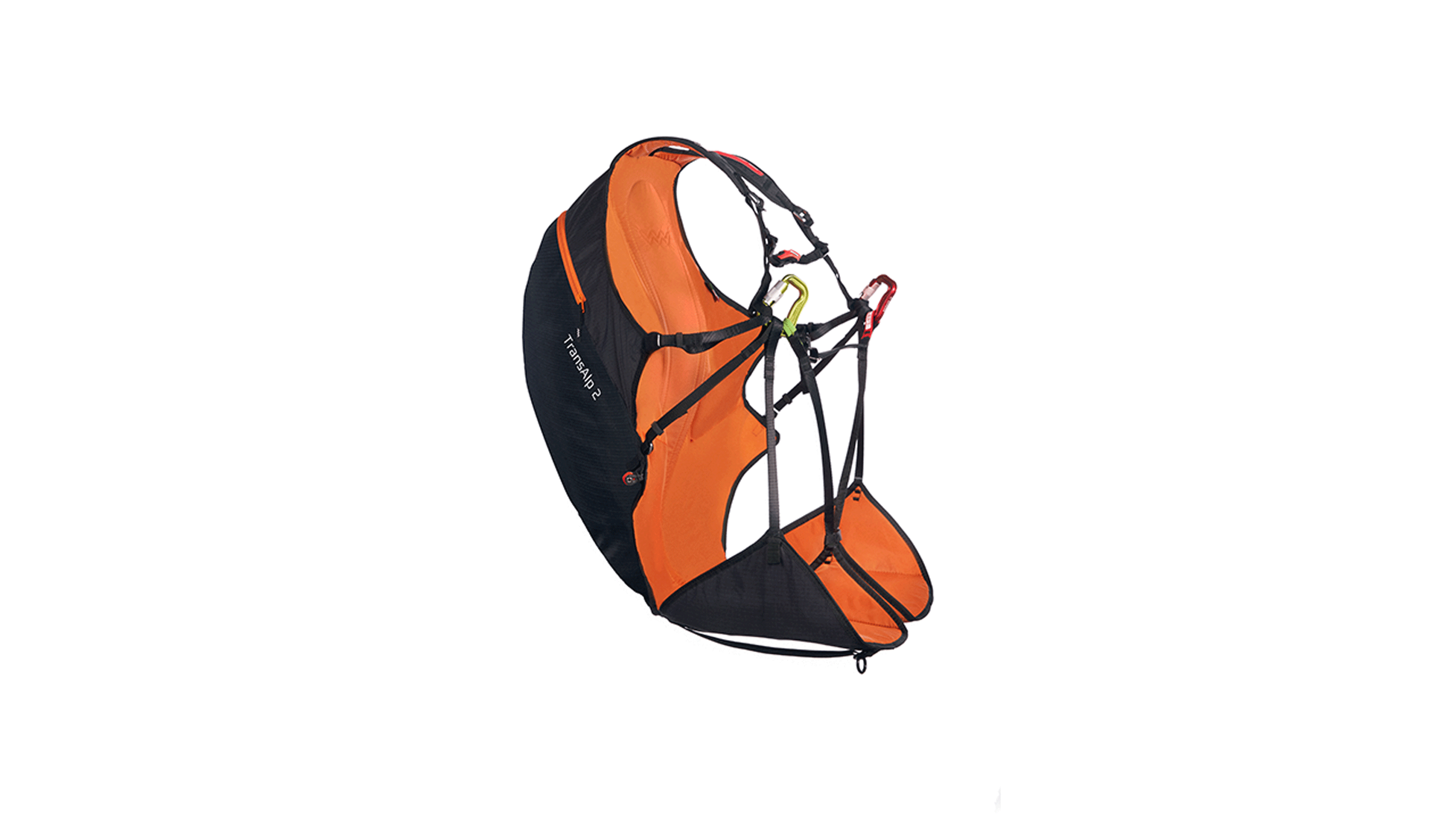 The protector can be inflated by mouth with the aid of the supplied nozzle.
The protector can be inflated with an inflatable bag.
Front light rescue container anthracite
The new "Front light rescue container" was designed for the Quadro 80 and 100 light in size M and for the Quadro 120 and 140 light in size L.
It weighs only 167 grams in size M and 175 grams in size L.
It is equipped with a Velcro instrument holder that allows you to always have your instruments in view.
It attaches easily to the carabiners and the strap between the legs.
DEDICATED HARNESS BACKPACK
The TransAlp 2 is sold with its 12-liter backpack which holds it perfectly.
Rucksack 12 is a backpack for everyday use, when you are not using it, you can easily fold it into its integrated pouch.
Rucksack 40-55-70 and Transalp 2, the perfect combo.
Carry your TransAlp 2 and your glider in a comfortable backpack
SPECIFICATIONS

TransAlp2

S

M

L

XL

Certification

EN-LTF

EN-LTF

EN-LTF

EN-LTF

Number of certification

PH_348.2021

PH_348.2021

PH_348.2021

PH_348.2021

Type of closing strap system

Get-Up

Get-Up

Get-Up

Get-Up

Type of protection

Inflatable (optional)

Inflatable (optional)

Inflatable (optional)

Inflatable (optional)

Max peak of impact

gr 34,93

gr 34,93

gr 34,93

gr 34,93

Total weight of protection

gr 429

gr 429

gr 429

gr 429

Speed bar included

gr 47

gr 47

gr 47

gr 47

Rucksack weight 12 lt

gr 87

gr 87

gr 87

gr 87

Pilot height

m < 1,68

m 1,65 - 1,78

m 1,75 - 1,88

m 1,85

Total weight *

gr 884

gr 924

gr 972

gr 1000

Distance between karabiner and seat

cm 45

cm 47,5

cm 50

cm 52

Distance between carabiners

cm 36-44

cm 36-44

cm 36-46

cm 36-46

*Harness weight including carabiners.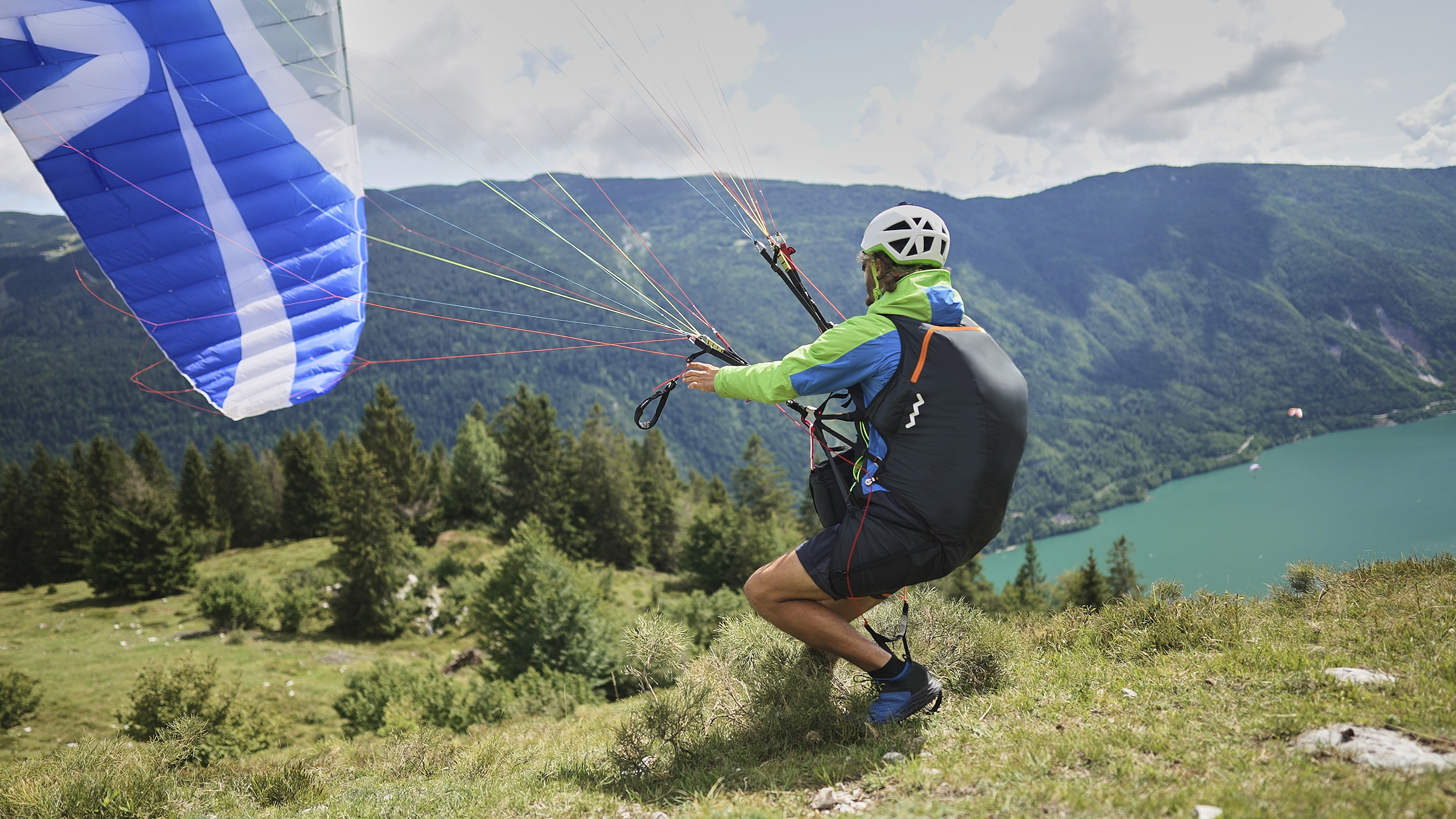 How do i attach leg straps?
I cosciali hanno un'asola destra di colore verde e un'asola sinistra di colore rosso, devi semplicemente infilare le asole dentro i rispettivi moschettoni dello stesso colore dopo aver indossato l'imbrago. Una volta infilate le asole, le scritte LEFT e RIGHT dovranno essere rivolte verso l'interno.
What is the elastic of the speedbar for?
The speed bar is very light and the wind would push it back during flight. The foot elastic enables you to have the speed bar always at reach.